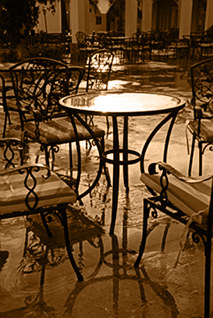 Toning is a chemical treatment that acts on the silver image of the Black and White paper changing the chemical composition, and can be used for conservation or to change the tone of the image.
It should be noted that Black and White paper, as it has silver salts in its composition, can oxidize easily, being susceptible to chemical attack by the environment - pollution, tobacco smoke, detergent vapors.
Selenium Toning - Selenium chemically protects images and enhances blacks in the image.
Sepia Toning* - Two baths toning. The tone can range from almost yellow to dark brown. This toning has conservation properties.
Size (cm)
Selénium
Sépia*
18x24
4.50 €
7.20

€

24x30
6.30

€

9.50

€

30x40
11.85

€

16.20

€

40x50
14.00

€

20.00

€

50x60
16.90

€

23.00

€
* By prior agreement.
Toning has a
Preparation Cost
of € 6.00.
The above prices do not include VAT at the rate in force.
Viragem Lab
only warrants the silver prints made against any changes that appear naturally within one year of production, if they have undergone one of the conservation treatments listed above.