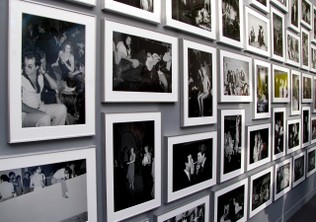 Choosing the right materials for printing and mounting can be tricky. Although this choice is always personal, let us give some general guiding.
Photo Paper: This is a general porpose paper allowing good contrast and good color reproduction. White color. Typical surface: luster (intermediate between glossy and matte).
It supports well the handling, with good results in most of the images, both color and black and white.
Fine Art Matte Paper: photo paper with a matte surface, good color reproduction but with slightly less contrast than Photo paper. A "velvety" surface, similar to watercolor paper, which imparts a bit of "paint look" to photographs. Color: Lightly cream.
We have two types, the Matt Fiber, synthetic and the Matt Cotton Smooth 100% cotton with a longer longevity.
Baryta Fine Art Paper: Photo paper with a special glossy surface, excellent color vibrancy and contrast. The glossy surface of this paper is similar to classic analog fiber papers. White color.
Fine Art papers, mate or baryta, are more delicate papers, which should be placed in acid free card boxes or mounted on frames or on other media such as pvc or aluminum, for display.
The more sophisticated surface of these two types of paper particularly enhances printed images!
- Fine Art Mate paper works very well to create a sophisticated ambience in Black and White or Color images.
- Fine Art Baryta paper ensures maximum detail in low light in Black and White images and great vibrancy in color images.
The decision to choose between Fine Art Mate or Baryta papers has to be well considered because the same image is completely different when printed on one or the other of these papers.
Canvas - It is a fabric that is usually mounted on a wood frame. The surface has a texture of its own. White color.
There are many other types of paper (Backlit, Clear Film, Rice, Vinyl, etc.) for more specific purposes, which we do not address here.
Please feel free to contact
Viragem Lab
if you need
help in choosing the best material for printing a particular image for albuns, collectors/sale, exhibitions or decoration.
The inks used
for printing in
Viragem Lab
are the LUCIA EX, a pigment ink that ensure maximum longevity with 12 ink cartridges for excellent dynamics and color gamut.
For a given color to be the same on the camera, monitor, and printer, digital images must have an associated color profile, typically sRGB or Adobe 1998.
The image resolution should be 300 dpi for printing, and 72 dpi for viewing on a screen.
The size´s price in the table are indicative for cost determination. The actual size of the printed image may be different, depending on the ratio of the used sensor or the negative, whether or not image reframing has occurred, etc.
Putting a white margin or not? Margins serve to focus our eye on the image, isolating it from the environment.
On the other hand, without borders we have a more contemporary approach and a greater integration in a decorative environment.
If the images are to be exposed, there are several options:
1 - Direct photograph on the wall, fixed with small nails, springs, magnets or adhesive tape. For temporary exhibitions.
2 - Bonding on a support - pvc, K-line, K-mount, aluminum and aluminum composite (Dibond, etc). The photograph after gluing on the stand can be glued directly to the wall with self-adhesive tape or carry a frame in aluminum to be hung.
3 - Frame. More classic mounting that has the advantage of protecting the image from the environment, blocking UV rays and pollution, humidity, etc. In larger sizes the photo can be previously glued to pvc to remain flat inside the frame.
For all these issues related to prints,
Viragem Lab
is naturally available to its customers to assist in the solution.